"The fear of the Lord leads to Life; then one rests content, untouched by trouble"Proverbs19: 23.
Hi, brothers and sisters how are you? I hope everyone is doing great. Our God is great and faithful; He is answering our prayers.
A month ago, I went to visit a seriously sick woman; it was not a good environment to pray for her, and I decided to leave her place and go home. The following day early in the morning the Spirit of God asked me to go and pray for her. I rented a small car and went back to her place, and after I had prayed, I asked her to give her life to Jesus, and she agreed and welcomed Jesus into her heart. Two days later, she passed away. I felt sorry about her death but was happy because I obeyed God and she went to be with Jesus. Praise God! I learned that if we are sensitive to the Holy Spirit and obey Him, He would do great things in our lives. Praise the Lord.
On April 29th and 30th with 25 great commission people, we witnessed to 682 people around our areas and 73 people gave their lives for Jesus. Praise God it was amazing! Among the 73 people, there were Muslims, Orthodox, and unbelievers. On May 5th, we will work again with 26 Assemblies of God church people to do more witnessing in the area. The plan is that every three months we will work with the great commission people to go and witness in our area. According to Mathew 28:18-20 and Luke 15 this is what God has commanded us to do; spread the gospel and make disciples.
UPDATE ON LAST THIRTY DAYS
I hired an evangelist on April 5th in a part-time position.
Two signboards advertising the church were put up recently, one at the roadside and one on the front wall of the church. The signs have drawn many new people to the church. Due to the increase in attendance, we changed our Sunday service from afternoon to morning hours, which are from 10:00 am to 1:00 pm.
God gave me a beautiful two bedroom apartment at a good monthly rate, and I moved in on April 15. Everyone is welcome to come and visit.
Several of the International Evangelical Church (IEC) pastors; senior pastor Jerry Shannon, congregational care pastor Girma Demissie and the director of adult ministries Michael W. Heaton asked me to use our church building first for Bible studies and second for Sunday morning English speaking church services. They have many members in our area, and it is far for them to drive to IEC. I said okay as long as it is for the kingdom of God. Last Saturday they started Bible study.
Regarding the 3-day conferences, I decided to organize it when I have come back from America because it is too much to handle and I will not be in Ethiopia. I will be back in Minnesota the middle of June.
We are very busy besides holding services three times a week we are going to start teaching the new converts at least twice a week. We are also doing counseling and prayer as many people have a lot of issues.
---
Immediate Needs
Additional chairs for the church, 75 chairs for the children Sunday school for three rooms and 25 more chairs for main church.
More Bibles for the new converts.
A Monitor to control the music.
A Projector
A Car
Finally, I want you to thank God for His amazing work in our lives and to pray for the following:
Deep in my heart I feel we need our own place to worship God because we will have more freedom and it is not easy to pay 17,250 Birr every month. We can use it for other needs. Brothers and sisters our God is the owner of heaven and earth, please let us pray by faith and God will do great things.
Pray for the new converts to come to Church, learn the word of God, and be strong in their faith. Always when people decided to follow Jesus, the devil brings different obstacles to stop them from learning God's word.
Pray for us we need strength, wisdom, and the knowledge of God to counsel, teach, and pray for others.
Pray for my health; sometimes I feel pain in my stomach and for my travel to the USA. I will come on June 14th.
Pray for Ethiopia in some areas of the country there are conflicts between tribes and drought in the northern part of the country.
I sent you some pictures; please take a look at them. May the peace of God be with you.
Jesus is Lord!
Teshome
---
Church Sign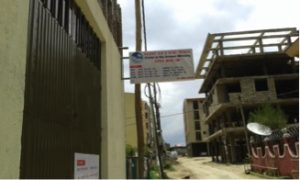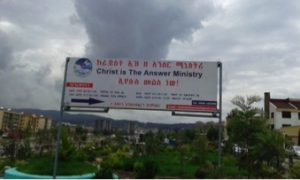 Office Furniture
Fellowship Meal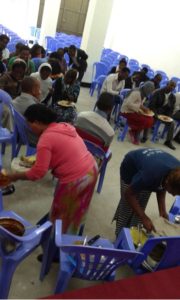 Worship