"As for you, go your way till the end. You will rest and then at the end of the days you will rise to receive your allotted inheritance."  Daniel 12:13.
Hello everyone how are you?
I want to thank each and every one of you for what you have done for Marie, Redeat, and me.
Praise God! Our license application is corrected and approved by the Ethiopian federal office and submitted to Ethiopian press agency on March 10, 2016. The request for a church certificate will be published in the Herald and Ethiopian Addis newspapers. Then we wait until March 27, 2016, to see if anyone objects to the name and logo. If no opposition, we will get our license on March 28, 2016. We give God the glory!
The four rooms for the children's church, the workmen who we hired to do the roofing and sheet metal were not as qualified as they led us to believe and made a lot of mistakes. The roof is short and it leaks. Therefore, we have to do it over immediately. After the roof is completed, we will install the electricity, ceiling, paint, make the floors smooth, and prepare the hallway for the winter rains. God willing, we will finish within the next ten days.
Regarding church services we are doing well most people come from far because we did not announce about the church in our area due to the issue with the license. Last Sunday about twenty people attended the service. We had a guest preacher who was 88 years old. He was a captain during the reign of King Haile Selassie. He is a member of International Evangelical Church (IEC); pastor Girma introduced him to me. I extended an invitation to him to come to the church and preach; we had a wonderful service. The theme of the sermon was " Jesus paid a great price for us so let us live for him."
Our next step, I am planning to organize a two-day conference in April as soon as we get our license. A conference is similar to a tent or revival meeting. Three days ago, I was with two pastors from the Assembly of God Church; we discussed how to prepare Amharic tracts and flyers, organize people for outreach in our church area before the conferences, and how to organize the conferences and it went well.
As for me, since I came to Ethiopia in December, I am living with a friend whom I knew in Nairobi, Kenya. He offered me a place and said not to rent my own place until I have the church license and the children's rooms completed. It is amazing God's provision. However, I am contributing to living expenses. My health is good, but two weeks ago, I drank mixed juice and made my stomach sick, but God healed me. In general, life for a person who has medical issues and lived in Kenya for ten years it is not easy especially after experiencing fifteen years of life in America. The hygiene, food, transportation, communication, etc. are all daily challenges living in Ethiopia. However, I am jubilant because I am doing the vision God placed in my heart for many years and God's help is with me in every step I am taking.
Finally, I want you to thank God for everything he has done. Pray for an evangelist, outreach to the community, the upcoming conferences, guest preachers until I get my license, worship leaders, music players, and my health. May God be with all of you?
Jesus is Lord
Teshome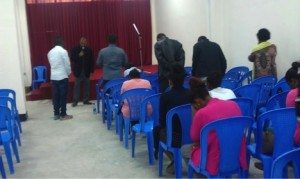 [contact-form][contact-field label='Name' type='name' required='1'/][contact-field label='Email' type='email' required='1'/][contact-field label='Website' type='url'/][contact-field label='Message' type='textarea'/][/contact-form]